Our Services
ANT CONTROL IN AND AROUND HOMES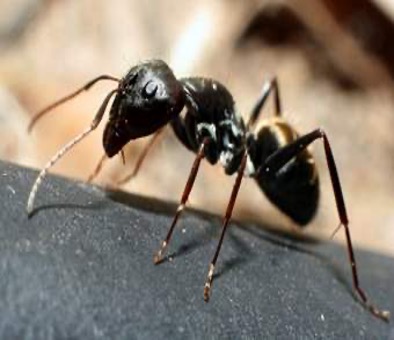 Pavement antAnts are one of the most common insects in the world (found on all continents, but Antarctica) and are highly adaptive in nature. Canada has over 100 different species of ants, they vary in color from black, red, brown, and tan. After the Carpenter Ant, the two most common household pests (ants) are the Pavement Ant (Black Garden Ant) and the Thief Ant.
Ants are social insects that typically live in underground colonies, made up of a hierarchy of female and male workers and a queen. When invading households, ants will eat practically any kind of foodstuffs but are especially attracted to sweets. Ant identification is relatively simple due to their three distinct body regions: head, thorax, and abdomen, as well as antennae. Winged ants are referred to as "reproductive swarmers," the wings aid in colony dispersal and mating. In our area, a seldomly observed ant, called the Citronella ant, exhibits this swarming activity.
Thief antAnts that infest households are typically attracted to areas that provide moisture, food and sometimes nesting habitat. The kitchen, children play areas, and washroom(s) are areas of usual activity for ants. Once ants enter a household and locate a food source and/or nesting habitat they communicate via pheromones, sound, and touch, spreading the information to others that will potentially makeup the new colony.
ANT SERVICES
Determination of the type of ant
Is the ant infestation the larger pavement ants or the smaller thief ants
Where they are accessing the home
Are there cracks or little openings around the house where the ants can enter
Ascertaining the food source they are attracted to
Are there spills or crumbs in the kitchen, children play areas, and washroom(s) attracting the ants
Finding possible nesting areas within the home
Are there any tiny cracks, around doors and windows and beneath sliding doors


These factors will dictate whether the service will entail either or both an interior and exterior component and whether a baiting or insecticidal application is appropriate. In some cases, both methods will be used.
Call Enviro-Guard Plus for any ant infestation problem. Our Office will send out a Service Preparation Sheet to advise you regarding the steps required prior to our service.
(Please note do not use insecticides or strong cleaning agents prior to a Service request as these actions may impede our Service).